A Wrinkle in Time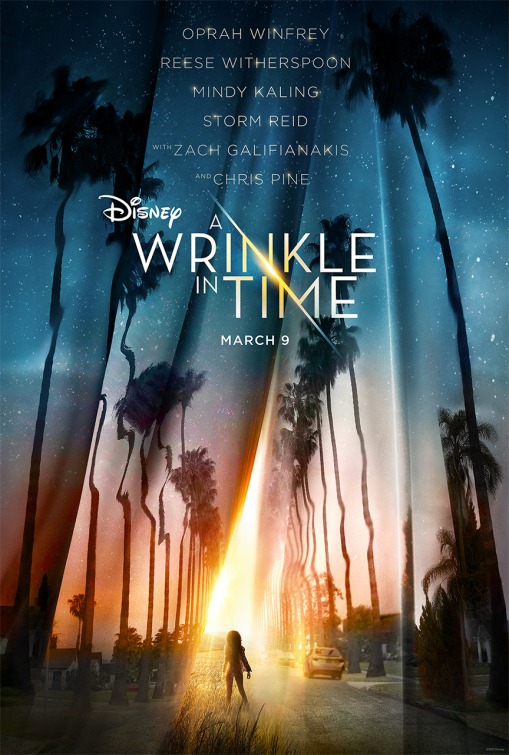 Madeleine L'Engle's "A Wrinkle in Time" was one of the earliest books I read, and together with Douglas Adams' "A Hitchhiker's Guide to the Galaxy" formed my childhood - and continual adult - fascination with sci-fi, quantum physics, time travel, mysticism vs religion and ignited my obsession with sci-fi/fantasy series. With that in mind, and the fact that the last time I read the source material was at least 20 years ago, Ava DuVarney's version of it had the broad themes of love, acceptance and family in its heart but unfortunately her execution lacked the wonder and vision (and even horror) of L'Engle's richly-imagined world, and also lacking was the emotional bond between its younger (main) characters and the familial bond of the Murrays.
DuVarney excelled in the smaller and more intimate moments, especially in the first act, but once the story moved on, she was clearly overwhelmed by the fantastical aspects of the story, and consequently the CGI challenge in building a world (for comparison, see Spielberg's "Ready Player One"). DuVarney was clearly a novice at this aspect of the film-making and it showed, whereby the world she created had a childlike wonder to it without the sophistication or polish to really ground the story. It felt like two separate entities: the story and the setting.
However, where DuVarney really succeeded was the casting. This was a really, really strong cast and Storm Reid is a star in the making. As is Levi Miller. Deric McCabe had his moments, but his third act was perhaps a bit too much. Reese Witherspoon, Mindy Kaling and Oprah Winfrey were superb and embodied the personification of the Mrs; and their costumes deserved an Oscar nomination come next year. Chris Pine seemed to be establishing a niche market for himself as the all-American, yet not really an alpha, male. Lastly, we have Gugu Mbatha-Raw, one of the more underrated actresses now. Reid may be the emotional heart of the film, but Mbatha-Raw was the soul, grounding the film with her honesty and luminosity.
Having watched this film, I cannot wait to go and read the whole series all over again.